This title is out of print and no longer available from HPS. The information on this page is provided for reference only.
Click here to download the latest free upgrade patch.
Additional user-created scenarios and maps are available for download.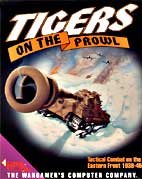 Tigers on the Prowl 2, designed by former US Army officer Scott Hamilton, is the most detailed and accurate simulation of tactical combat ever made for the civilian market.

"Sooner or later, all serious WWII gamers will play TIGERS 2.0; you're better off doing it sooner."
-COMPUTER GAMING WORLD, JAN 97

"a must-buy!"
-COMPUTER GAMES STRATEGY PLUS, OCT 96

"15 Best Wargames of All Time: #11 - Tigers on the Prowl"
COMPUTER GAMING WORLD, NOV 96



"10 Best AI's of All Time: #4 - Tigers on the Prowl"
COMPUTER GAMING WORLD, APR 96

---
| | |
| --- | --- |
| Tigers on the Prowl 2 (ToP2) is a WWII simulation covering all of the Eastern front from 1939 to 1945. This tactical level simulation features over 700 weapon types and hundreds of unit type and formations. Virtually every armored vehicle and ground attack aircraft that fought during WWII on the eastern front is present. Losses are taken by individual vehicles for armor units and man-by-man for personnel units. The scale is platoon/section, with a time scale of 1 minute per turn and 100 meters per hex. Tigers on the Prowl 2 is identical in use and operation as its sister simulation Panthers in the Shadows. | |
Tigers on the Prowl 2 includes unprecedented detail for all weapons systems from the German Army, German SS, Luftwaffe, Soviet Union, Soviet Guards, Rumania, Hungary, Bulgaria, Italy, and Finland. Players can play against each other either face to face, by PBEM (Play by Email), or against a computer AI.

But warfare is not just about weapons and ToP 2 simulates the human aspect of war including:

| | |
| --- | --- |
| | Detailed Command and Control |
| | Unit morale and willingness to fight affected by casualties, the perceived status of nearby units, weather, fatigue and more. |
| | National characteristics including training, experience, and willingness to take casualties |
Tigers on the Prowl 2 Features:

Comprehensive Artillery capabilities including:
-Indirect and Direct fire
-Counterbattery Fire
-Rolling Barrage Fire
-Smoke and Illumination Rounds
-Off Shore Naval Bombardment
-Carpet Bombing

Fortification and Engineering functions including:
-Minefields
-3 Levels of Improved positions
-Pillboxes & Casemates
-Obstacles like dragon teeth, tank ditches, abatis, barricades and others
-Mine Clearing and Bridge Demolition

And Much More:
-Weather and Ground Conditions
-Forest and Town Fires
-Dud and Jammed Rounds
-Vehicle Breakdown
-Dust, temperature, light and wind effects
-Airdrops and Naval Landings
-Tactical Airstrikes
-Over a dozen ammunition types
| | |
| --- | --- |
| Hit probability and armor penetration for every single round of ammunition fired determined "on the fly" using actual ballistic calculations. | Detailed Line-of-Sight (LOS) calculations and hidden unit status. |
| | Combat effects displayed round by round if desired. |
---
E
asy to use interface with "Staff Officer" menu to keep you informed and make the decision and order process simple
| | |
| --- | --- |
| | Information on every unit is at your fingertips |
A few of the hundreds of Weapon Types modeled:

11 Types of Pz III
8 Types of Pz IV
3 Types of 88mm FLAK/AT Guns
13 Types of Sdkfz 250/251 Half-tracks
3 Types of Nebelwerfers
7 Types of captured French Tanks
7 Types of T-26
5 Types of T-34
5 Types of KV-1
Lend-Lease Grants, Shermans, Matildas
and Valentine Tanks
3 Varieties of the 76.2mm AT Gun
JS 1 through JS III
Polish "Tankettes"
Finnish "Aerosans"
7 Models of the Italian "Semovente" Assault Gun
Dozens of Infantry Platoons Varieties differentiated by year and weapon allocations including:

Regular Infantry
SMG Infantry
Bicycle Troops
SS Infantry
Patroopers
Volksgrenadiers
Volksturm
Guards
NKVD
Marine
Assault Engineer
Heavy and Light MG
AT Rifle Teams
Panzerschrecke and Panzerfaust Teams
Snipers
Some of the more esoteric units included:

Panther VF "Schmalturm" (narrow turret).
Panther II (88mm)
Flakpanzer IV Kugelblitz and V "Coelian"
Maus
E-100
Russian armored cars BA-6 / BA-10 / BA-20
Russian prototype tanks: SMK and T-100
Functional Russian mineroller and dozer tanks
Russian "mine dog" teams
SdKfz 301 A, B and C demolition tanks
Pz IB/Ladungsleger demolitiontanks
PanzerBeobachtungswagen III and IV
German SD2 and SD1 antipersonnel cluster bomblets
Russian PATB/2.5-1.5 HEAT cluster bomblets
River gunboats
Ju88P-1 75mm Anti-tank attack bomber
M.SS-41 Solothurn ATR
---
Units can be displayed as with military symbols or as graphic icons
Maps created from actual military topographic maps can be matched with terrain palettes to depict ground conditions
Create your own scenarios and select weaponry from huge database
---
Scenarios Included with Tigers on the Prowl 2:
| | |
| --- | --- |
| | ADAMOW, Poland. 1939. |
| | LOWICZ, Poland. 1939. |
| | DOROGOBUSH, Russia, USSR. 1941. |
| | W. BIRJUKOFF, Ukraine, USSR. 1942 |
| | PROKHORVKA, Russia, USSR. 1943. |
| | BUKRIN, Ukraine, USSR. 1943. |
| | GERESHENOWKA, Ukraine, USSR. 1944 |
| | RYMANOW, Poland. 1944. |
Players can easily create new battles using the built-in Scenario Editor and the 18 maps included. Comes with the Panthers in the Shadows manual, which is used for both games.
---
Additional user-created scenarios and maps are available for downloading.
MINIMUM REQUIREMENTS:
IBM-compatible 386/16 PC or higher
VGA graphics or better
580k free RAM
1 MB high memory
4 MB hard disk space
Mouse
Click here to download the latest free upgrade patch.